---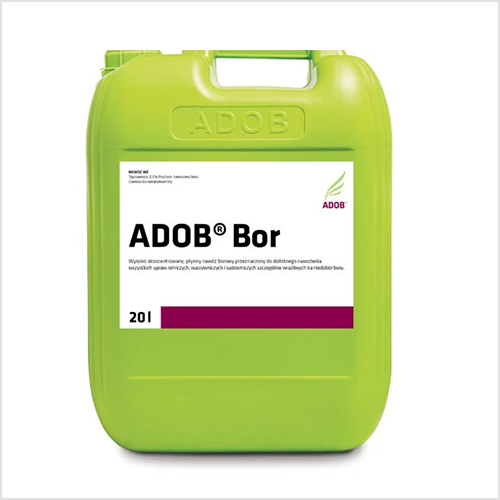 Liquid foliar fertilizer with high boron content.
ADOB Bor is an essential element in plant food, intended for sensitive crops, especially those with boron deficiency: rape, sunflower, sugar beet, potatoes, corn, legumes, alfalfa, orchards, vegetables.
Participates in the formation of cell wall polysaccharides;
Participates in the growth process and in the transport of sugars;
Regulates auxin activity.
| Composition | % Weight | % Volume | g / l |
| --- | --- | --- | --- |
| Bor (B) soluble in water | 11,1 | 15,0 | 150,0 |
Usage
Crop
Time of usage
Dosage l/ha
Water amount used for spraying l/ha
Field crops
Sugar beet
phase 4-6 leaves,
row formation phase
3
2-4
200-300
200-300
Rape
Rapeseed autumn: phase 5-6 leaves
Rapeseed spring:
1. after the start of vegetation
2. green bud phase
1-2

3-4
2-3
200-300

200-300
200-300
Corn
Corn phase 6-9 leaves
1-3
200-300
Potatoe
Potato before flowering
1-3
200-300
Horticulture and orchards
Vegetables
well developed leaves
3
200-300
Căpşuni
Flower bud phase, apply again in 2 weeks time
1
200-300