---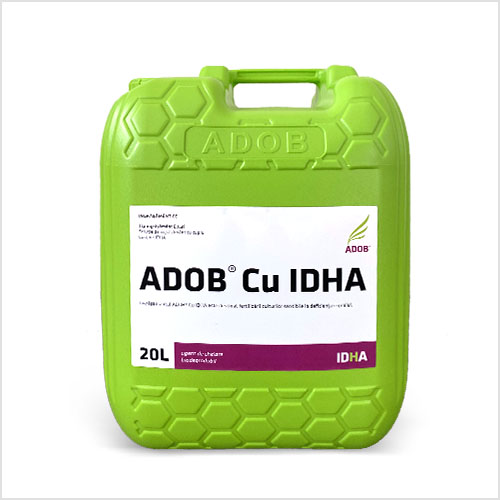 Chelated liquid fertilizer with high copper content easily assimilated by the plant. ADOB fertilizer with chelated IDHA is intended for the supply of copper-deficient crops: cereals, corn, potatoes, papilionaceous plants, fodder grasses, sunflower, sugar beet. Copper is a necessary element for the proper development and fruiting of plants, helping with:
Increased resistance to frost and fungal diseases;
Plant respiration;
Chlorophyll synthesis and stabilization;
The activity of many enzymes and the process of photosynthesis.
Composition
% Weight
% Volume
g / l
Nitrogen nitrate (N-NO3)
2,0
2,7
27,0
Copper (Cu)
4,4
6,0
60,0
water soluble, chelated with IDHA
Stability of the chelated fraction of pH 3-8
Usage
Crops
Time of usage
Dosage l/ha
Water amount used for spraying l/ha
Field crops
Cereals
autumn: phase 2-3 leaves
spring: until the phase of the first internode
1-1,5
1-2
200-300
200-300
Potatoe
three weeks after emergence
1-1,5
200-300
Corn
phase 7-9 leaves
1-1,5
200-300
Sugar beet
before the formation of rows
1-2
200-300
Horticulture and orchards
Orchards
before flowering
1,5-2
1000
Vegetables
when vegetables have well-developed leaves
0,25-2
300-400
Strawberries
before flowering
1,5
500