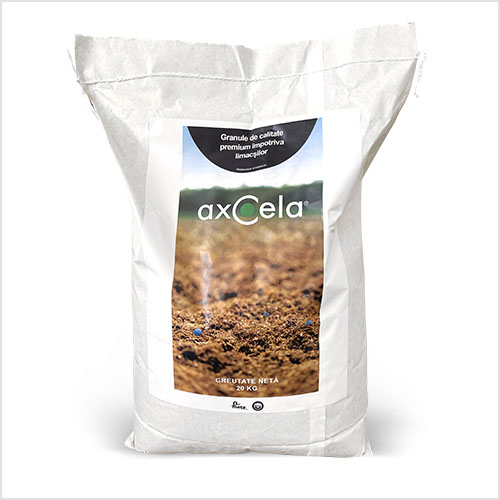 Axcela is a bait in the form of pellets (ready for use) for the control of slugs from cereal crops (wheat, barley, rye, triticale, oats), sugar beet, potato, rape, flax, mustard and poppy.
It acts on slugs by destroying the tissue that forms the mucus by dehydration. In the first phase, the pest is immobilized and then dies. The best results are obtained after application during slightly humid weather, when pests are much more active, but when no rain is expected.
---
INSTRUCTIONS:
EXCLUSIVELY FOR USE AS A MOLLUSCOCID IN AGRICULTURE
Culture
Maximum amount for one use
Maximum number of applications *)
Total dose - maximum
Cereals (wheat, barley, rye, triticale, oats)
7 kg/ha
3 (at least 14 days apart)
21 kg/ha
Rapeseed, flax, mustard, poppy
Sugarbeet
Potatoe
*) The waiting period is covered by the conditions of use and / or the vegetation period remaining between application and use.
Active substance content: 30 g/kg (3%) Metaldehyde
Find out more here: www.axcela.ro