---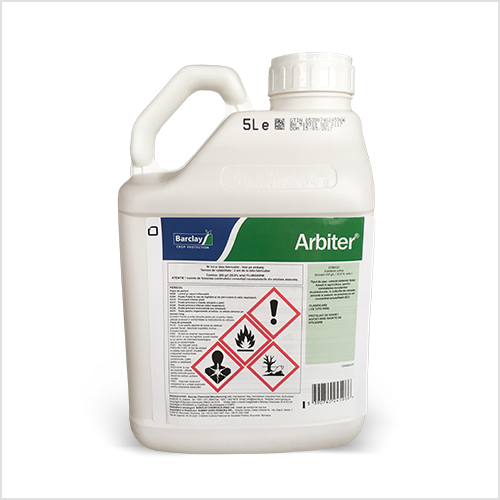 Arbiter is a foliar systemic herbicide used in agriculture for the successful control of dicotyledonous weeds in cereals, fodder maize and pastures.
It is essential that the weeds are fully sprouted before application, and the product should be sprayed to completely covers their leaves.
Arbiter can be combined with Nicosulfuron for maize crops and Tribenuron-methyl for straw cereals.
Contains: fluroxypyr 200 g / l (20.6% w / w)
Application dose / maximum applications per year, for use only as an agricultural herbicide
| Crop | Dosage l/ ha | Maximum no.of treatments | Time of usage |
| --- | --- | --- | --- |
| Wheat, autumn barley | 1,0 | 1 | Between 3 leaves and 2 visible internodes |
| Winter oats, rye | 1,0 | 1 | Before the 2nd internode |
| Spring wheat ,spring barley | 0,75 | 1 | Before the 2nd internode |
| Forage maize | 1,0 | 1 | From the 3rd unopened leaf to the 6th unopened maize leaf, before the maize plants are 20 cm high and before the supporting roots appear at the first node |
| Stabilized pastures | 1,25 | 1 | See specific restrictions |
| Newly sown pastures | 0,75 | 1 | See specific restrictions |