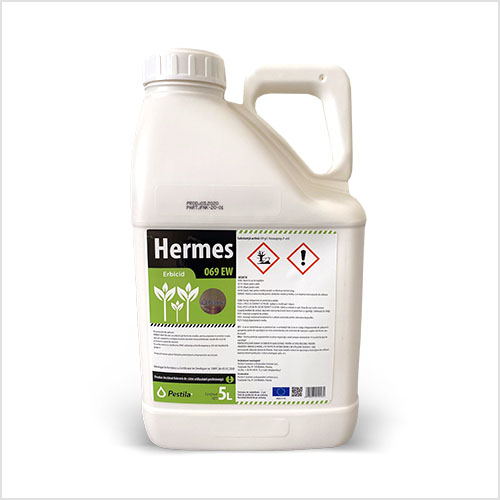 HERMES 069 EW is a selective product that acts on the structure of the plant, is captured by the leaf, and then transferred to the place of impact, ie to the vegetative cones of the shoots and roots.
It slows down the action of the enzyme carboxylase acetyl coenzyme A (ACC inhibitor) in the plant, because it takes part in the process of biosynthesis of fatty acids. The effects of the product are visible 2-4 weeks after application, depending on weather conditions. The first effect is to inhibit growth, and then changing of colours, often anthocyanin or chlorosis, and reddening of the leaves, especially on young leaves that are located on the leaf sheaths or near the node. Drying and necrobiosis of plants occurs from the beginning of growth.
HERMES 069 EW most effectively destroys monocotyledonous weeds from the leaf stage to the twinning stage, regardless of the development phase of the crop plant.
HERMES 069 EW is an emulsion herbicide for preparation mixed with water, which aims to control certain annual monocotyledonous weeds of spring barley and autumn wheat.
Maximum/recommended single use dose: 1,0 L/ha
Application period: the product is applied from the phase of 2 visible siblings to the phase of the third node (BBCH 22-33).
Maximum number of treatments in the growing season: 1
Recommended amount of water: 200-300 L/ha
Recommended spraying: granulație cu picaturi medii
Active substance: 69 g/L phenoxaprop-P-ethyl.