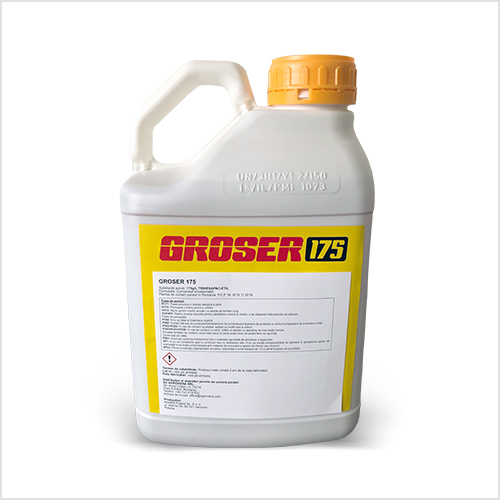 Groser 175 is used as a growth regulator for cereal crops: wheat, barley, rye and autumn triticale.
The use of the product helps to make it easier to harvest cereals and to prevent plants from falling.
The active substance trinexapac-ethyl inhibits the biosynthesis of gibberellin, which reduces the elongation of the base or upper internodes, thus reducing the height of the plants. This effect, cumulated with the increase of the stem diameter, results in the reduction of the falling plant phenomenon and the maintenance of a high production per hectare.
Only one treatment with Groser 175 is applied during the growing season.
Groser 175 is approved for post-emergence application to the following crops at the following application rates:
| Crop | Target effect | Application dose | Suspension volume/ha | Culture Development Stage (BBCH) |
| --- | --- | --- | --- | --- |
| Autumn wheat | Adjusting the processes of crop growth and protection against the phenomenon of plant fall | 0,4 L/ ha | 300 L | BBCH 30-39 (beginning of foliage until the appearance of the leaf) |
| Autumn Barley | Adjusting the processes of crop growth and protection against the phenomenon of plant fall | 0,8 L / ha | 300 L | BBCH 30-39 (beginning of the foliage until the appearance of the leaf) |
| Rye and triticale of autumn | Adjusting the processes of crop growth and protection against the phenomenon of plant fall | 0,6 L/ ha | 300 L | BBCH 30- 39 (the beginning of the foliage until the appearance of the leaf) |
---