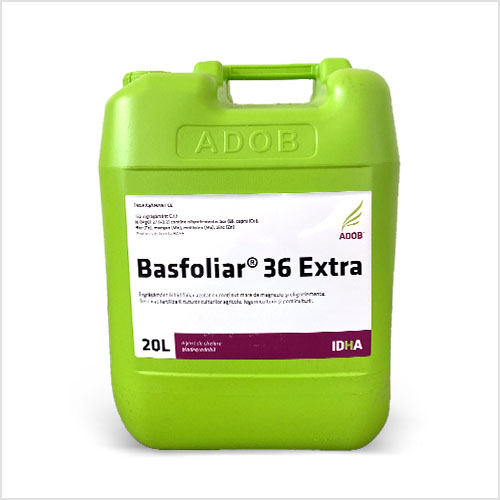 Basfoliar® 36 Extra is a liquid foliar fertilizer with a high content of nitrogen, magnesium and trace elements.
It is intended for fertilizing all agricultural, vegetable, wine and fruit crops.
Applies to all intensive crops.
The microelements contained in the fertilizer are chelated by biodegradable IDHA compounds, so they are very quickly absorbed by the leaves and do not turn into compounds inaccessible to plants.
The application of this fertilizer not only increases the harvest but also improves the qualitative parameters: in the case of cereals it raises the content of albumin and gluten, in potatoes starch and in beet sugar.
| Components | weight % | volume % | |
| --- | --- | --- | --- |
| Total nitrogen (N) | 27 | 36,2 | |
| Nitrate nitrate (N-NO3) | 4,7 | 6,3 | |
| Ammonium nitrogen (N-NH4) | 3,5 | 4,7 | |
| Ammonia nitrogen (N-NH2) | 18,8 | 25,2 | |
| Magnesium oxide (MgO) | 3,2 | 4,3 | soluble in water |
| Boron (B) | 0,02 | 0,027 | soluble in water |
| Copper (Cu) | 0,2 | 0,27 | water soluble, chelated by IDHA |
| Iron (Fe) | 0,02 | 0,027 | water soluble, chelated by IDHA |
| Manganese (Mn) | 1,0 | 1,34 | water soluble, chelated by IDHA |
| Molybdenum (Mo) | 0,005 | 0,007 | water soluble |
| Zinc (Zn) | 0,01 | 0,013 | water soluble, chelated by IDHA |
Usage
Crop
Concentration of liquid sprayed in %
Dosage L/Ha
Water amount per spraying L/Ha
Field crops
Cereals
1-6
5-10
200-600
Sugar beet
1,3-6
4-10
180-300
Potatoes
1-6
5-10
200-600
Rapeseed
1-6
5-10
200-600
Corn
1-6
6-10
180-600
Horticulture and orchard
Fruit trees
0,5-0,8
7,5-12
1500
Pear bearing fruit tree
0,25-0,3
3,75-4,5
1500
Fruit bushes
0,5
7,5
1500
Strawberries
0,20-0,25
3-3,75
1500
Vine
0,3-0,6
4,5
1500
Hops
0,5
7,5
400-600
Celery, spinach
0,1-2
4-8
400-600
Peas
0,8-1
3,2-4
400-1000
Cabbage, cauliflower
2-3
8-12
400-1000
Nurseries
0,5
7,5
1500