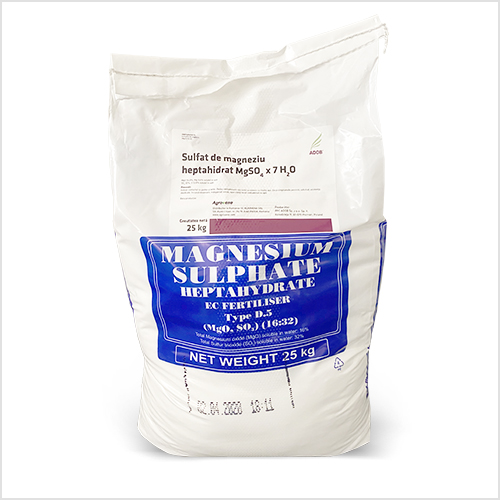 ADOB magnesium sulphate heptahydrate
(Epsom salt) is a special fertilizer with high concentrations of magnesium (MgO) and sulfur (SO3).
ADOB magnesium sulfate heptahydrate is an effective source of magnesium and sulfur and is mainly recommended for foliar application. The high concentration of nutrients in this fertilizer meets the needs of the most demanding plants. It is recommended for preventive and corrective fertilization of all crops.
ADOB magnesium sulfate heptahydrate ensures fast and efficient fertilization of plants with both secondary nutrients it contains. Magnesium is a central component of the chlorophyll molecule, so it is essential for optimal photosynthesis. It also improves the catalytic activity of many enzymes by establishing a precise geometry between the enzyme and its substrate. Sulfur is an important part of the three amino acids, being essential for all known structural and functional proteins (enzymes). It is especially important for oilseeds and protein crops, which explains why it is considered the third major nutrient of plants after nitrogen and phosphorus for oilseeds, soybeans, fodder and corn. Increasing evidence indicates the high importance of sulfur in plant protection mechanisms against biotic and abiotic stress.
ADOB magnesium sulfate heptahydrate is an effective product for correcting magnesium and sulfur deficiencies and for treating the physiological diseases they cause.