---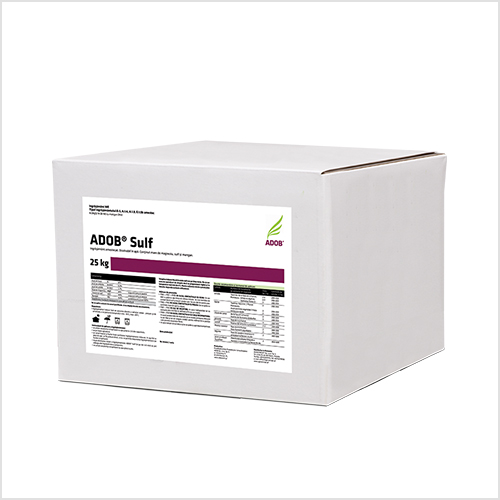 ADOB Sulf is a solid leaf fertilizer in powder-free microgranulated form. The product does not harden and dissolves in water very quickly. ADOB Sulf is needed to supplement basic fertilization, especially in adverse conditions such as low temperature, drought or low pH.
In recent years, due to the decrease in sulfur emissions into the atmosphere and the decrease in the amounts of elemental sulfur applied as fertilizer, the symptoms of deficiency of this element have begun to be observed especially in cereals and rapeseed.
Sulfur is necessary for the proper development of the plant because:
It has a role in the synthesis of carbohydrates and proteins;
Intensifies the process of photosynthesis;
Increases the resistance of plants to adverse conditions and fungal diseases;
Improves nitrogen efficiency on production;
It helps the growth and uniform development of plants;
Promotes the maturation of production;
Increases the percentage of seed oil.
| Components | % weight | |
| --- | --- | --- |
| Total nitrogen (N) | 14 | |
| Ammoniacal nitrogen (N-NH4) | 8,3 | |
| Ureic nitrogen (N-NH2) | 5,7 | |
| Magnesium oxide (MgO) | 14,0 | soluble in water |
| Sulfur trioxide (SO3) | 44,0 | soluble in water |
| Manganese (Mn) | 0,4 | soluble in water, IDHA Chelated |
Stability of chelated fraction of pH 4-8
Usage
Crop
Time of usage
Dosage kg/ha (for one application)
Water amount used for spraying l/ha
Cereals
autumn: from the phase of 3 leaves
spring: complete twinning
elongation
2-3
2-3
3
200-300
200-300
200-300
Rape
autumn: phase 4-6 leaves
spring: after the beginning of vegetation
green bud phase
3
3
2
200-300
200-300
200-300
Sugar beet
phase 4-6 leaves
before closing row
3
3
200-300
200-300
Corn
phase 5-6 leaves
3
200-300
Potatoe
2 treatments before flowering
2-3
200-400
Sunflower
phase 4-6 leaves
the head formation phase
2
2
200-300
200-300
Vegetables
intensive growth phase 2-3 treatments every 14 days
2
300-600
Trees and Shrubs
at the initial development of the fruit 2-3 treatments every 14 days
2
400-600