---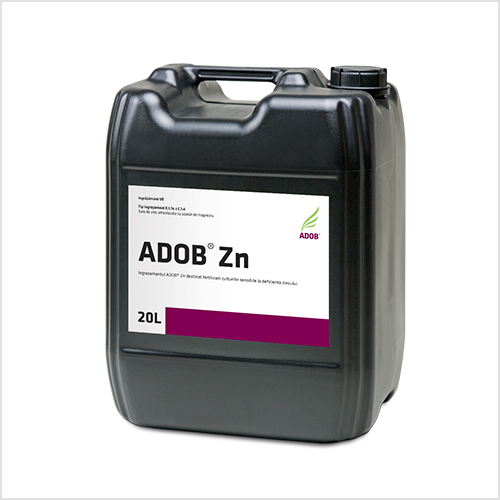 Multicomponent, liquid foliar fertilizer with high zinc content assimilable by plants. ADOB Zn fertilizer is intended for the supply of zinc-deficient crops: corn, legumes, sugar beet, potatoes and orchards.
Zinc is a very important element for the correct development and planting because:
Participates in nitrogen metabolism;
Participates in the synthesis of chlorophyll and vitamins C, B and D;
Influences plant growth and development;
Increases resistance to drought and disease;
Increases seed germination capacity and frost resistance.
| Composition | % weight | % volume | |
| --- | --- | --- | --- |
| Total nitrogen (N) | 6,8 | 9,0 | |
| Nitric nitrogen (N-NO3) | 5,8 | 7,7 | |
| Ammoniacal nitrogen (N-NH4) | 1 | 1,3 | |
| Magnesium oxide (MgO) | 2,3 | 3,1 | water soluble |
| Zinc (Zn) | 7,5 | 10,0 | water soluble |
Usage
| Crop | Time of usage | Dosage l/ha | Water amount used for spraying l/ha |
| --- | --- | --- | --- |
| Corn | phase 6-9 leaves | 2-4 | 200-300 |
| Potatoe | 3 weeks after flowering | 2-4 | 200-300 |
| Vegetables | before flowering | 1-2 | 200-300 |
| Sugar beet | before rows formation | 1-3 | 200-300 |